My 2021 best photos primarily focus on street photography and portraits with a couple of landscape images.
2021 was unfortunately not much different than 2020. COVID is still going strong, political division is at an all-time high, and everything is getting more expensive. Everyone is exhausted and ready for things to be "normal" again. What it means to be normal again is different for every person. One big difference this year compared to last year, despite COVID still being a problem, people went out to popular events such as the State Fair of Texas in droves.
This year was also a big year for my photography. I officially stopped shooting weddings and events and decided to solely focus on art photography and occasionally portraits as well. I sold all of my Canon camera equipment which included two camera bodies, 7 lenses, and 6 flashes. I used that money to buy a single Leica camera and two lenses for it. This greatly simplified my camera gear. I went from a suitcase of gear to a small over-the-shoulder bag. And so far it has turned out to be one of the best photography decisions I have made so far.
Well, these photos are my personal favorites of all the photos I took this year. I haven't shared some of the photos online before this post. They are in chronological order, from the beginning of the year to the end.
My 2021 Best Photos:
Waiting For Customers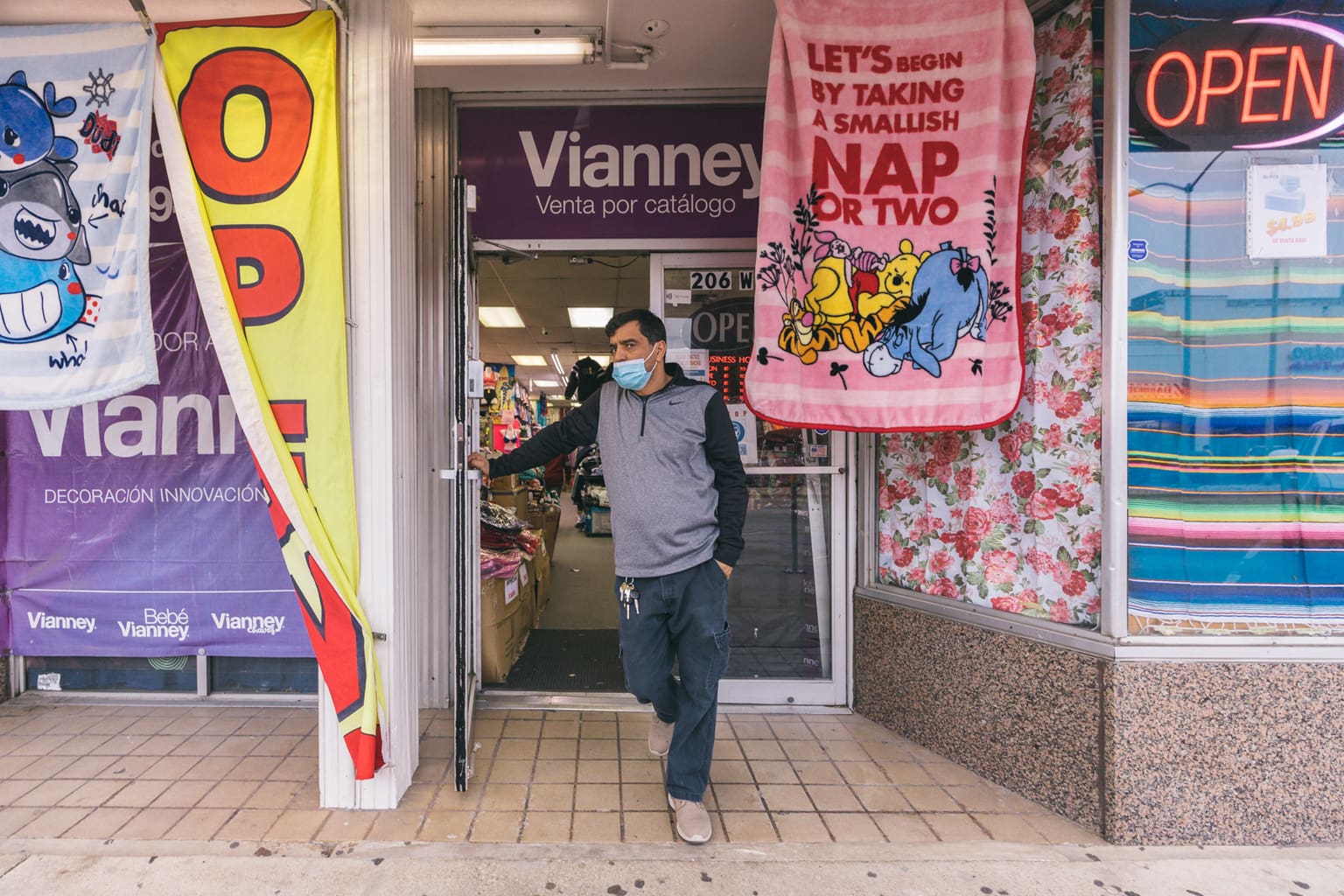 In January of this year, my twin brothers, Mike and Sam, and their friend Kostas and I went on a photo walk along Jefferson Boulevard in Dallas to do some street photography. This photo is my favorite from that day. I love the colors, textures, the man's expression and posture. It tells a familiar story that many other people are experiencing right now. A lot of the businesses were open but were sadly mostly empty. Employees stood outside in front of several of the stores hoping for a visitor. This photo is from this blog post: Jefferson Boulevard Street Photography in Oak Cliff, Dallas.
Quentin & Valaria Wedding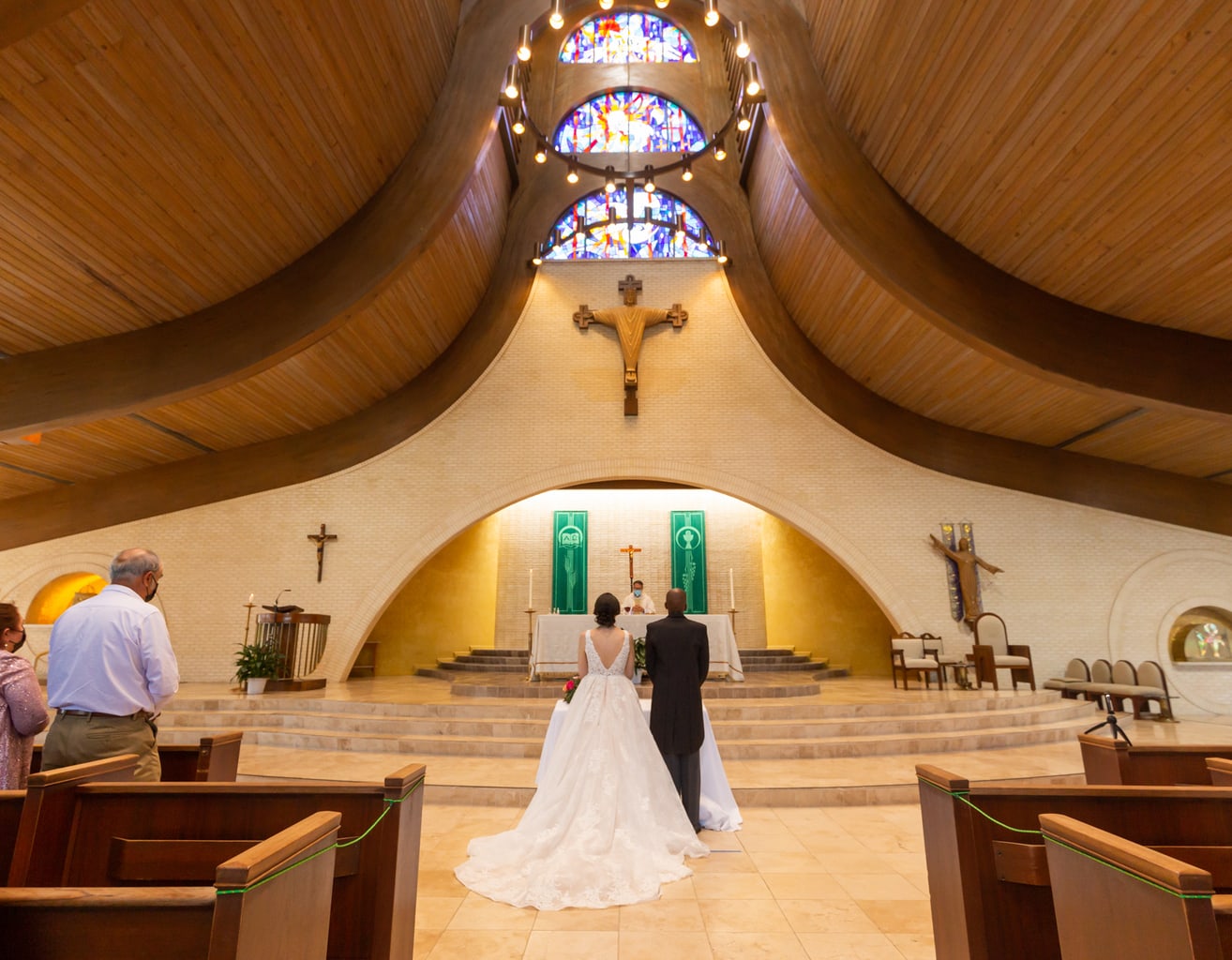 I chose this photo as one of my 2021 best photos because it's from the last wedding I photographed. It's of my friends Quentin and Valaria's wedding in a beautiful modern cathedral. I love the unusual architecture that creates this amazing triangular composition around the bride and groom.
Dallas Covered With Snow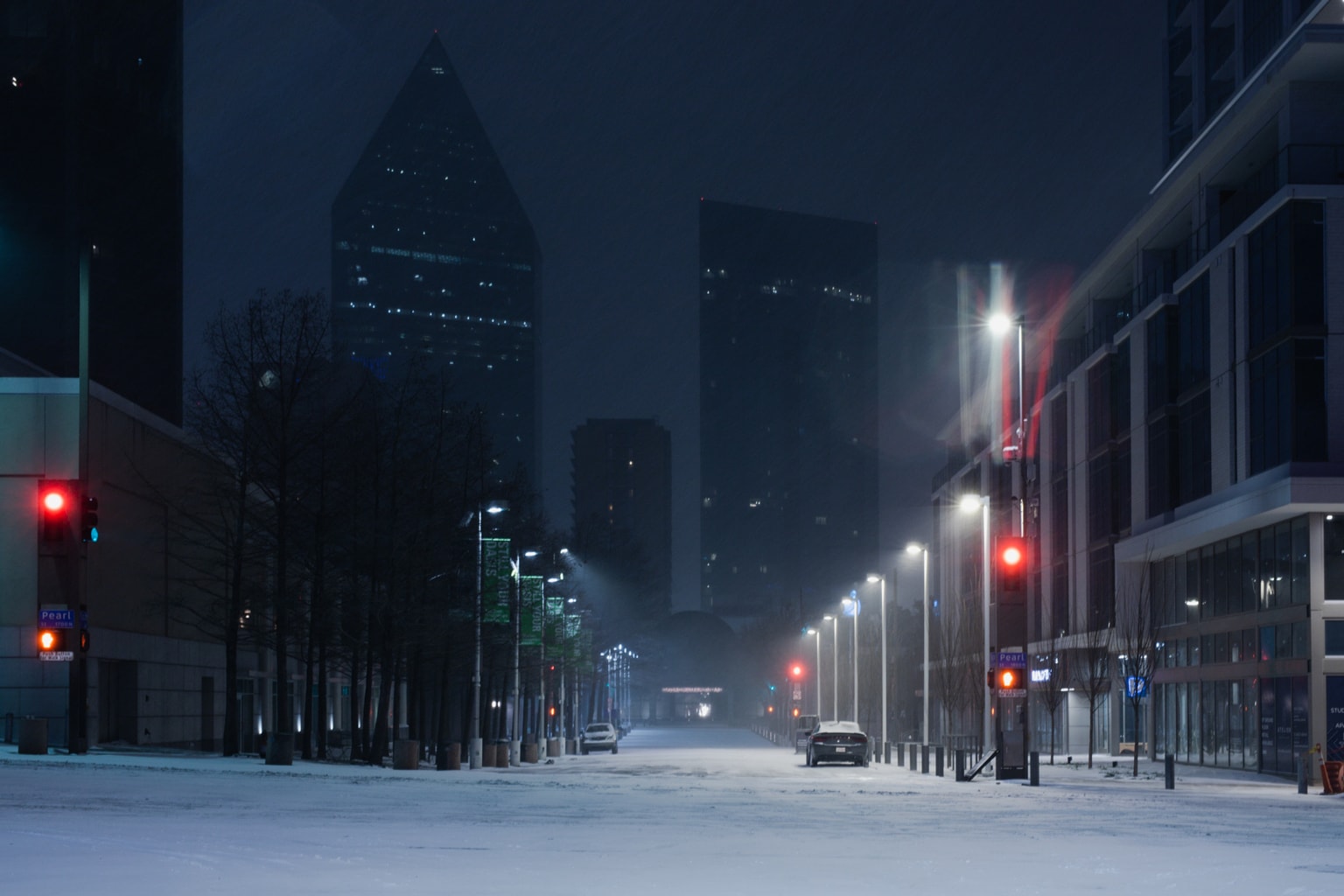 In February Dallas had one of its coldest and most intense snowstorms on record. Over a million people were left without electricity for several days and numerous homes and apartments were severely damaged including the one I was living in. Before all the damage happened, on the first night of the snowstorm I drove around Dallas at 3 AM capturing the city in a rarely quiet, snow-covered state. I believe this photo captures the atmosphere of that moment well. This photo is from this blog post: Dallas Snow Storm 2021, Photos Of Downtown And Deep Ellum At Night.
Snowy Dallas Skyline

A couple of days after the night shoot of Dallas covered with snow. I went out to the trinity river levee and walked for quite a bit in freezing weather across a snow-covered field to capture this photo of the Dallas skyline. After living in Dallas for over 10 years I seized this opportunity. I have taken many photos of the skyline but never in the snow. I was excited to get this photo. This photo is from this blog post: Dallas Winter Storm Photos 2021, A City Covered With Snow.
Alone In Downtown During COVID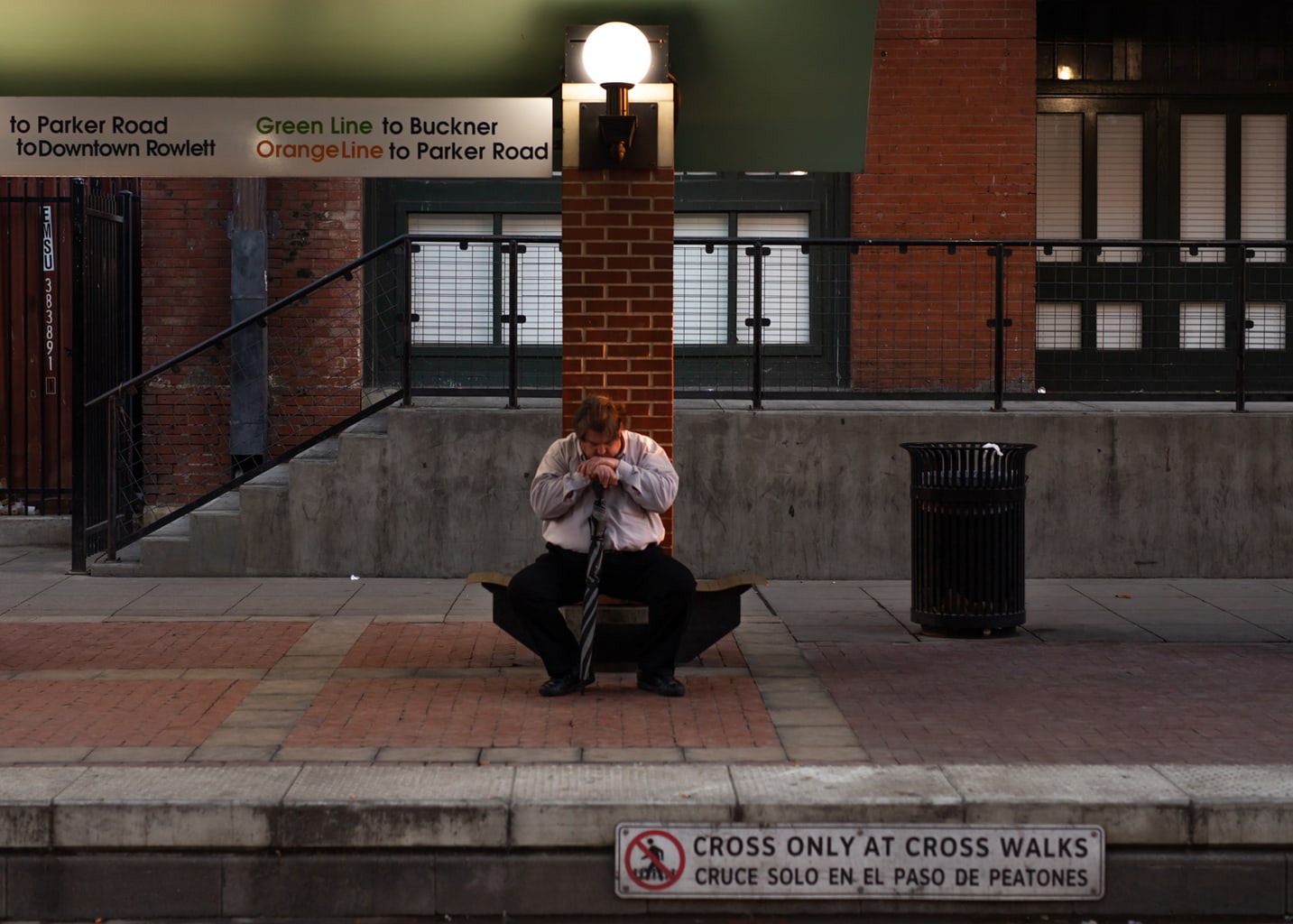 This train station in the West End area of downtown Dallas was always full of people before COVID. I spent an evening walking around downtown Dallas photographing it during this pandemic. I wanted to capture some of the loneliness and isolation the pandemic has brought about. When I saw this man sitting alone leaning on his umbrella., I felt it captured that feeling well. This photo is from this blog post: Dallas Street Photography Capturing The City's Isolation Mid-Pandemic.
An Old Blue House With Little Time Left
This photo is from my ongoing series about gentrification in Old East Dallas. I shot this photo on medium format analog film. I chose this photo as one of my 2021 best photos because of the colors and the interesting asymmetry of the house. But sadly, if you look in the distance behind it you see a row of townhouses under construction. More than likely this house will soon also be replaced by townhouses. I wanted to capture the unique character of this neighborhood as it's disappearing and being replaced by modern townhouses.
My Neices And Nephew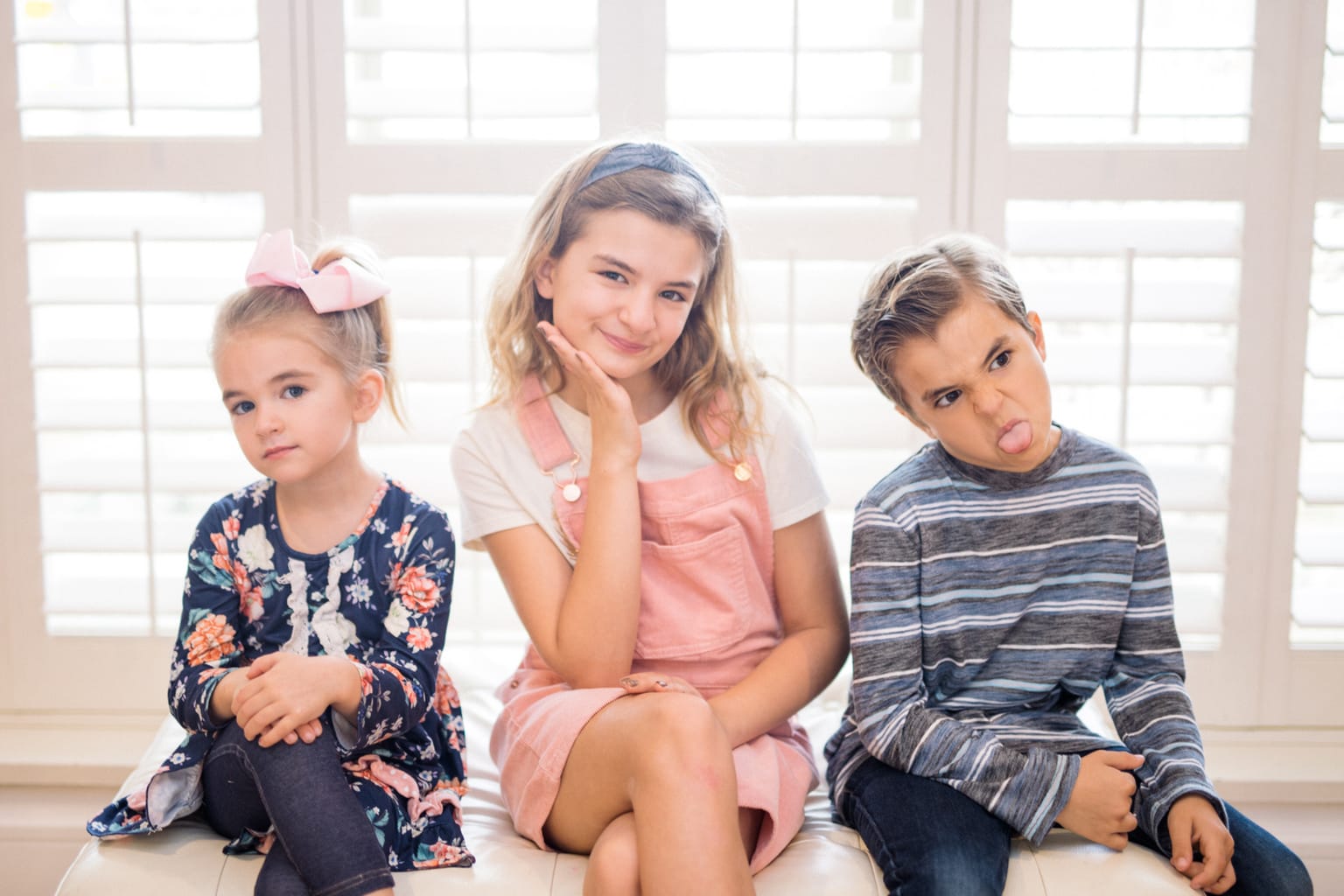 I did a family portrait session of my brother and sister-in-law's family to celebrate their new baby daughter Josie. During that session, I took a few photos of their three other children, Juliet, Symphony, and Abram. I chose this photo as one of my 2021 best photos because I feel it captures each of their cute personalities well. Juliet has a laidback confidence that's so unique in a child her age. Symphony is the oldest, she is extremely sweet, thoughtful, and responsible. And Abram is a fun, goofy, kind-hearted little guy. I love all three of them so much.
Tree Falling Into Milky Looking Water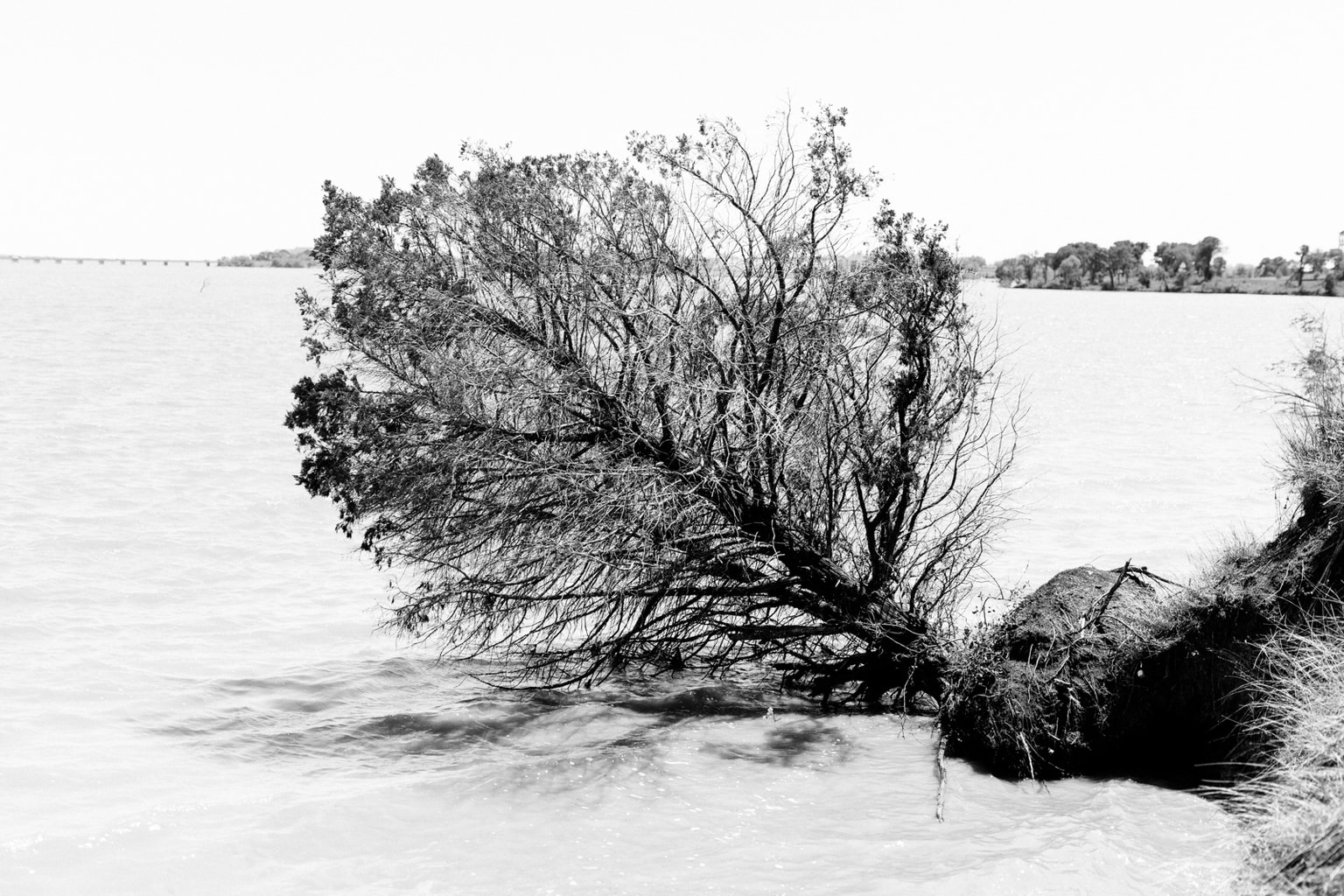 My wife and I moved out of Dallas to find more affordable rent and a better view. It was my first time living outside of Dallas in 10 years. It was a huge change for us and we do miss living in the city. When I took this photo it was my first time going on a photo walk since we moved. Since I live by Lake Ray Hubbard I walked along the lake and kept encountering trees gradually falling into the muddy water. The trees are in the process of slowly falling into the lake due to erosion. When I made the photo black and white, it made the lake water look milky. I thought the stark contrast of the leaning tree against the milky-looking water was a very interesting effect. This photo is from this blog: Trees In Lake Ray Hubbard Contrast Starkly Against The Muddy Water.
Portrait Of An Oil Worker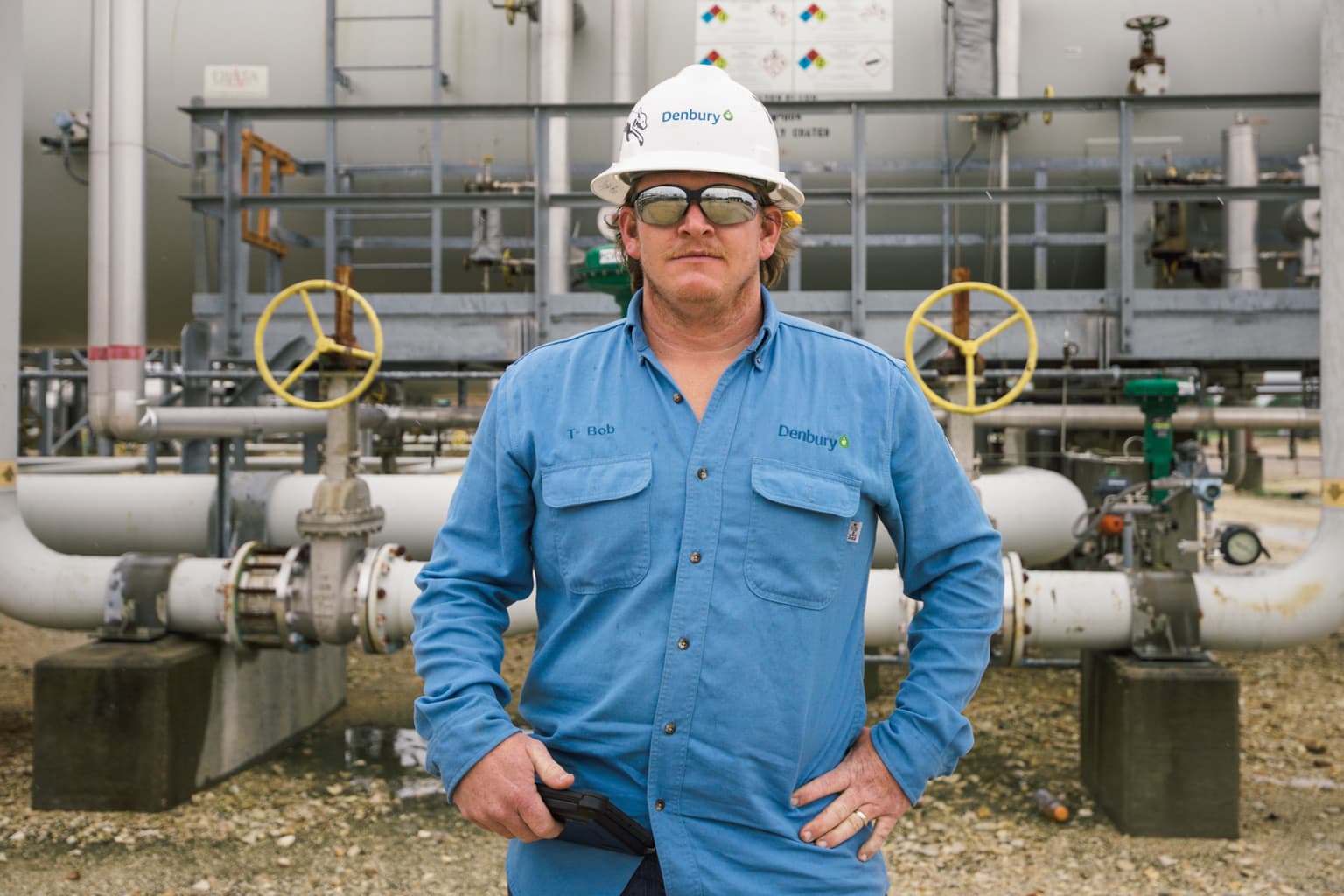 My full-time job is a Product Designer, also known as a UX Designer. Part of that job is getting to know the people who use our company's technology and apps. So once in a while, I get to travel to a place to spend time with people in their environments. On this trip, I went to Houston to spend time with some oil workers. I spent most of my time with this guy, T Bob. He was such a cool, smart, and down-to-earth guy, I learned so much from him. I took this spontaneous portrait of him in front of some oil machinery. It came out so well especially because T Bob relaxed for the photo giving us a glimpse of his personality.
Crushing A Piñata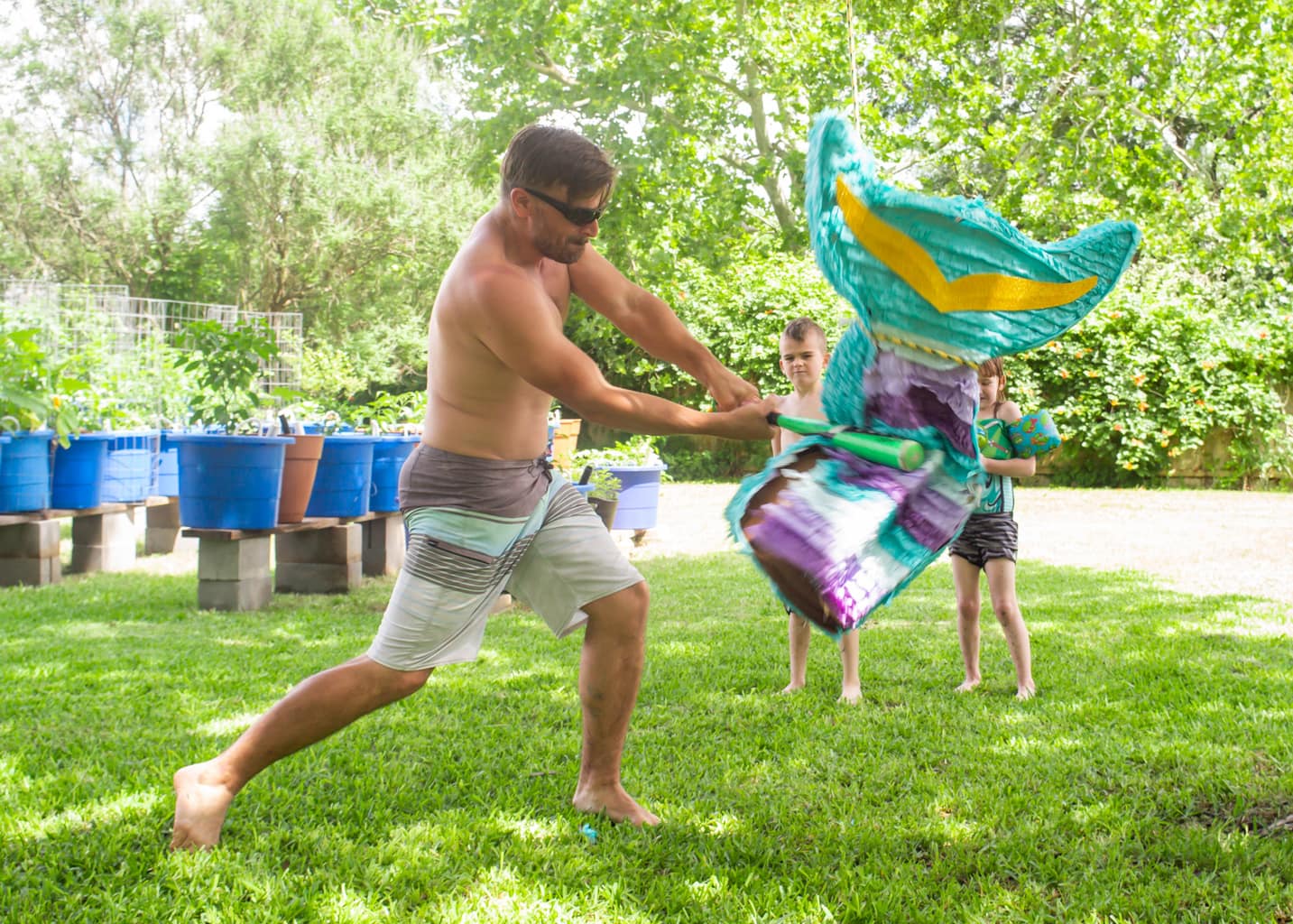 After I sold all my Canon gear and bought my first Leica, I couldn't wait to use it. A week after buying it, my niece Juliet had a birthday party. It was my first time officially using the camera at her party. One of the challenges of the camera is that it's fully manual, even focusing. I wasn't sure what it was going to be like. Shooting with a range finder was definitely an adjustment but it turned out awesome. I think this photo came out amazing, My brother is clearly in focus as his bat smashes against the piñata. You can see the kinetic energy flowing from the bat to the piñata. I didn't know piñatas folded like that. This happened so fast none of us were able to see it happen. This photo appeared in the post: Leica M262 Review After Photographing My Niece's 5th Birthday Party.
An Abandoned Pool Float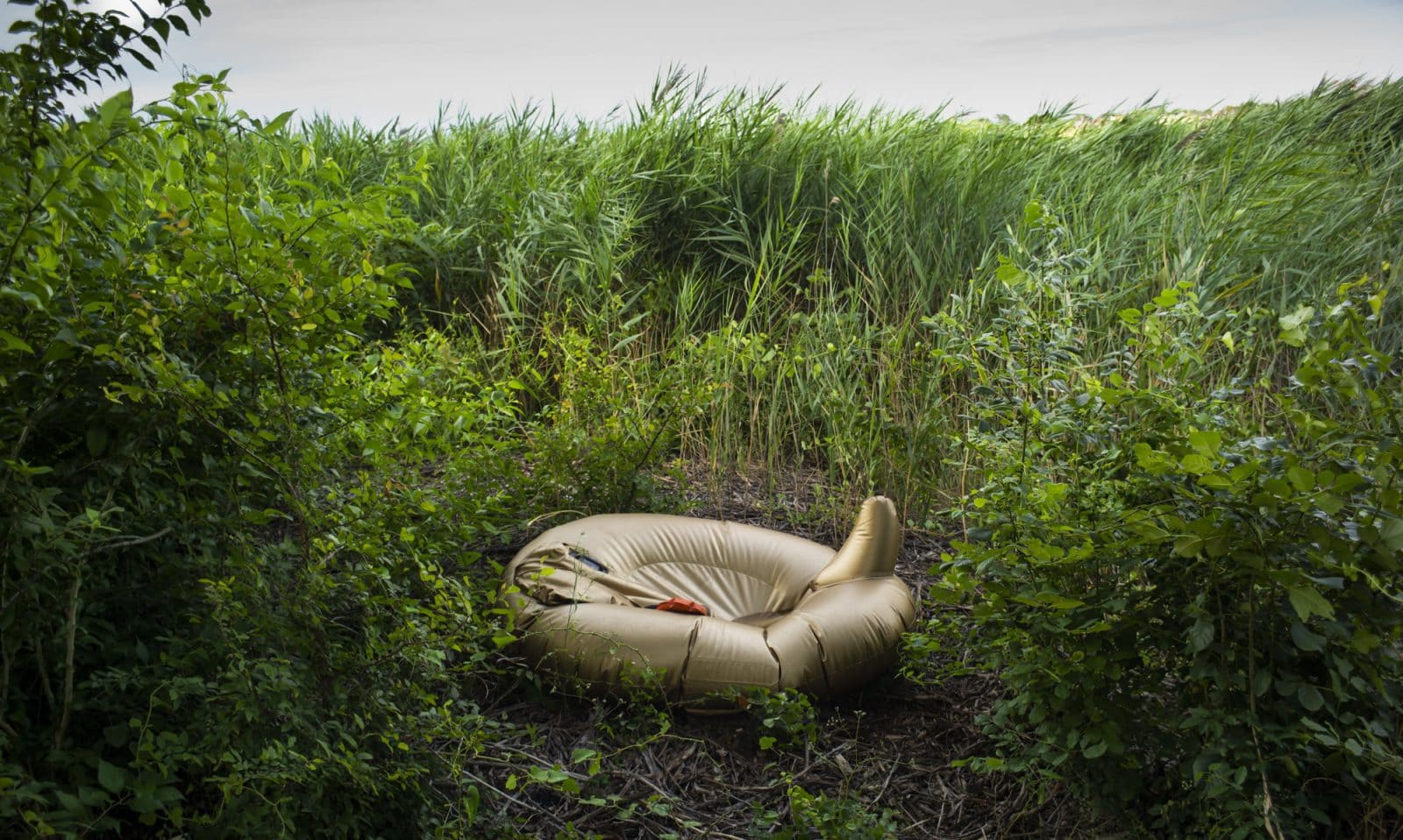 This is a pool float that was blown into some tall grass off of a trail I like walking on. I saw it there for months, staying completely inflated the whole time. There was something about the scene that drew my attention. Each time I walked on the trail I looked forward to seeing it again. One day I brought my camera for the sole purpose of photographing this gold inflated float sitting in tall grass. I liked the contrast of the green and gold colors. I also liked the contrast of the smooth synthetic texture of the float against the organic flowing texture of the grass. It's not a masterpiece, nor did I share this photo anywhere online before this post. But I love this photo because I took it for me to enjoy knowing that most people probably wouldn't enjoy it.
It Was The Last Time I Would Drive Down This Road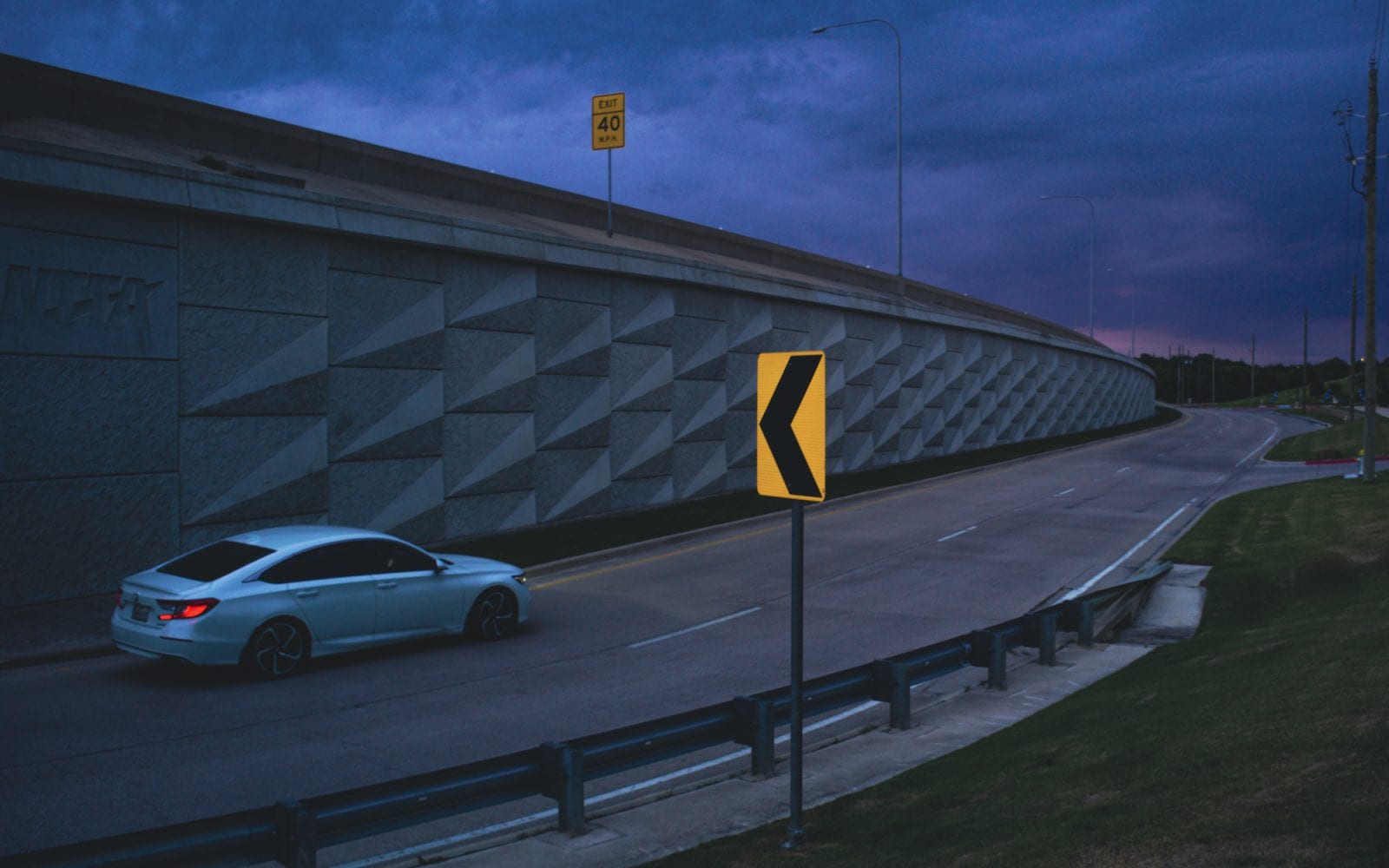 The title of this image is a fictional story I made up. I stood on side of the road waiting for the perfect moment to take this photo so I could tell my story. This scene is inspired by movies, books, and other stories when the character leaves a place for the last time without knowing it would be the last time. That's true for our lives, there's always the last time we will drive down a road. This is another photo I haven't shared online before this post.
Lost In The Red Neon Light
I took this photo during a weekend in Austin. While there I spent one of my evenings walking up and down Rainey Street capturing people reveling at night in the neon glow of the many bars there. I chose this photo as one of my 2021 best photos because I like the blue and red neon colors against the dark sky. Also, I like how pensive the guy on the left looks as he's holding his beer. Every time I look at this photo I wonder what was on his mind at that moment. This photo appeared in the post: Rainey Street In Austin At Night Is Both Mysterious And Colorful.
People Of The State Fair Of Texas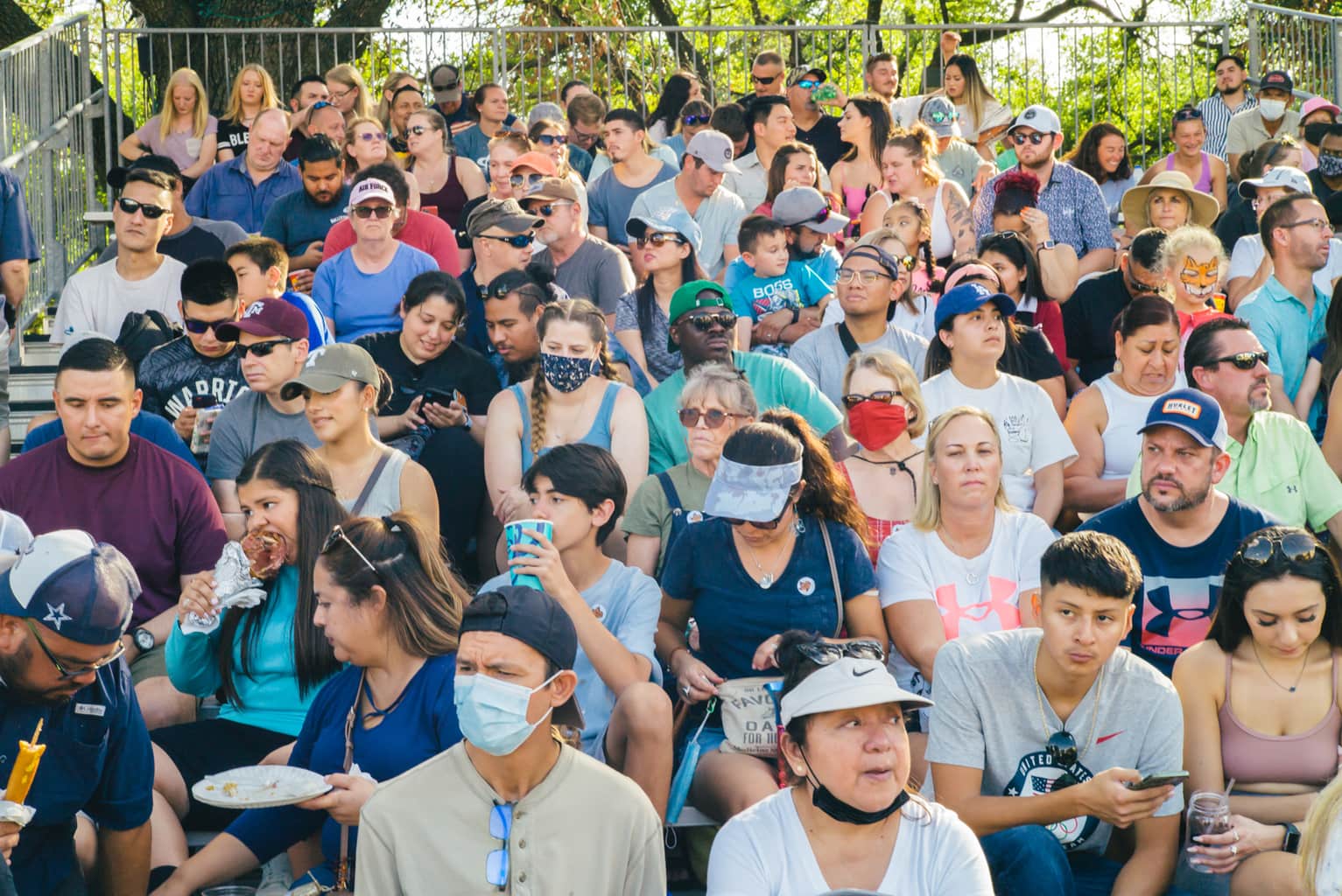 One of my favorite times of the year is when the State Fair of Texas is going on. I go every year to fully enjoy the rides, the food, the shows, the games, and the atmosphere. This year, with its return after skipping last year due to COVID I brought my Leica and took tons of photos. I focused on capturing people enjoying and participating in the fair. This photo is of a bunch of people watching a dog show. I love this photo because it captures a lot of what the fair is about. In the bottom right you see a Fletcher's corny dog and a girl eating a turkey leg. You can see people, couples, and families all doing their own thing while sharing the same space. This photo appeared in the post: State Fair Of Texas 2021, Photos Of The Largest Fair In The United States.
The Atlantic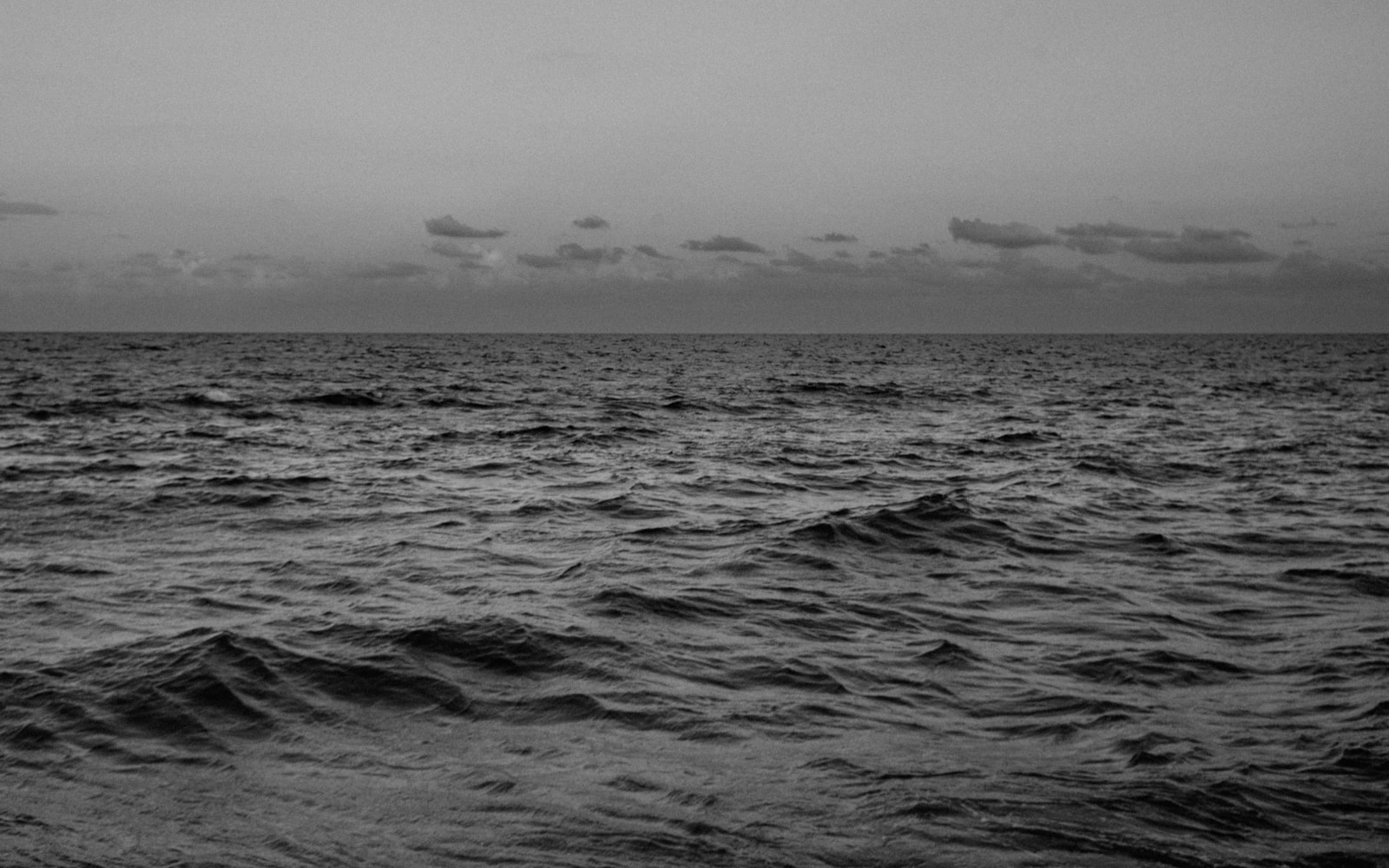 I made this photo during a trip to Fort Lauderdale. I love the ocean and its constant movement. Often I wish I lived near it. I added this as one of my 2021 best photos because of how much it represents a longing in my heart. I also really like the texture of the water in this photo. It looks sharp and coarse but we know water is neither of those.
Opening Up For Business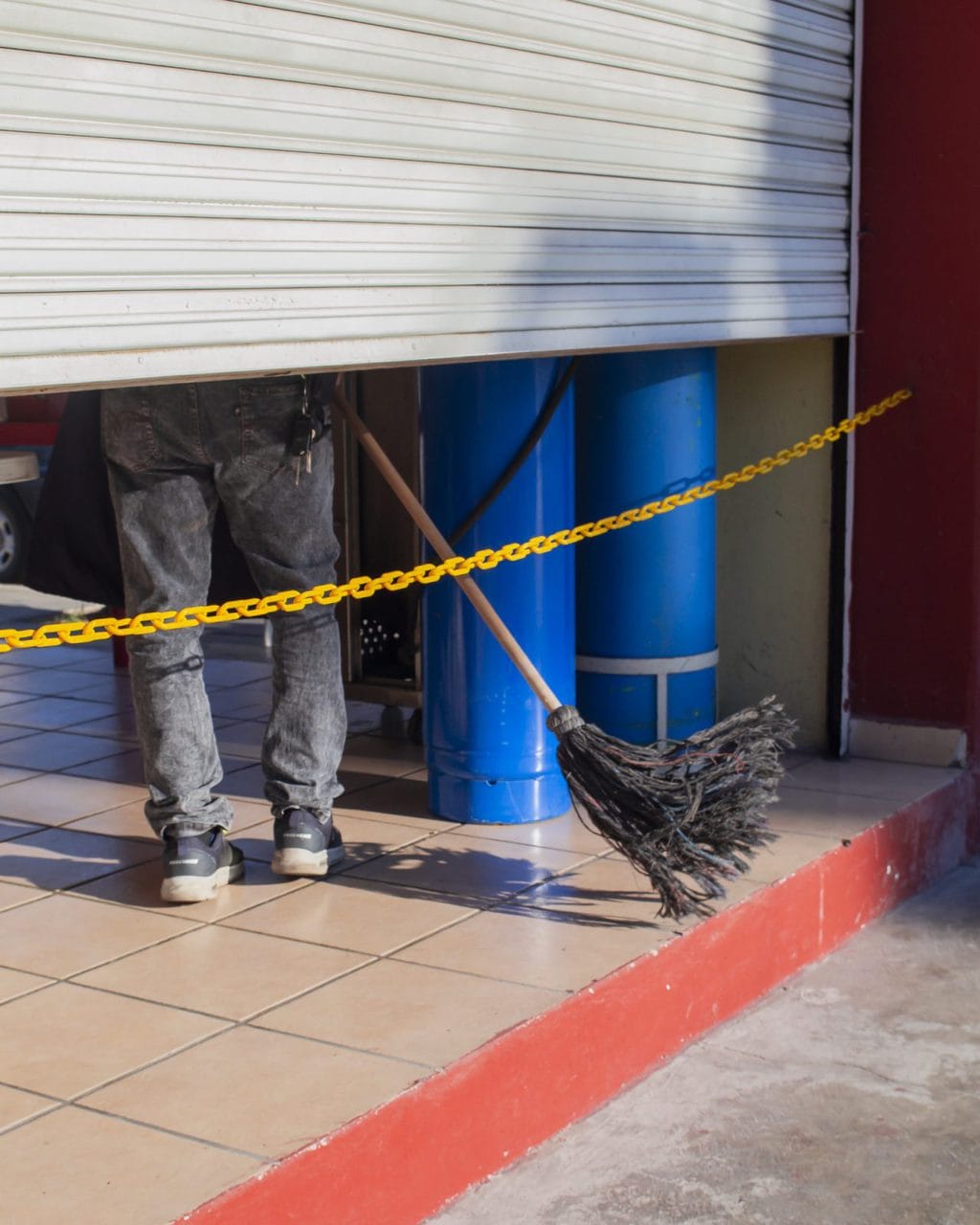 There are so many things I love about this photo. It's of a man mopping the floor of a restaurant in the morning. First, it's how the three primary colors, red, blue, and yellow appear together in an unexpected and unique way. And the mop's color is virtually the same as the man's jeans with subtle streaks of red connecting it to the red paint strip. Also, I love the energy captured in the movement of the mop, you can so easily imagine it moving back to the floor. And lastly, it's the white half-opened door obscures most of the man and restaurant creating a sense of mystery. This photo appeared in the post: Mexico Street Photography, Capturing Everyday Life In The City Of La Paz.
A Fisherman And A Dog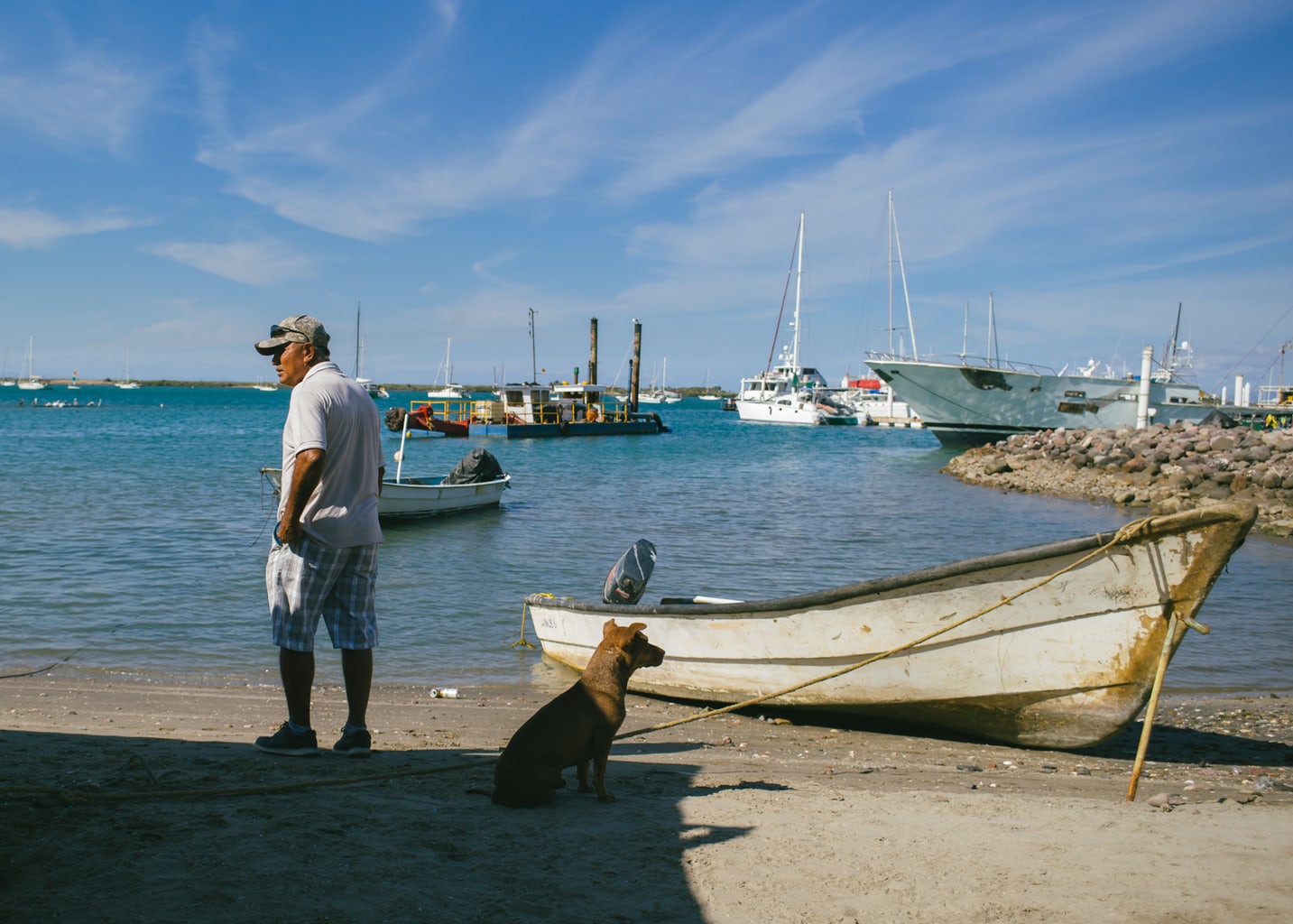 I really like the composition of this photo and the tension created by the man and dog looking in opposite directions. When I walked upon this beach I was focused on figuring out a way to capture all those boats. But then I saw that man and dog I immediately took the photo without much thought. It was completely instinctual. By trusting my instincts I was able to capture all the boats at this beach in a much more interesting way than I had originally imagined. This photo appeared in the post: Mexico Street Photography, Capturing Everyday Life In The City Of La Paz.
When The Party Is Over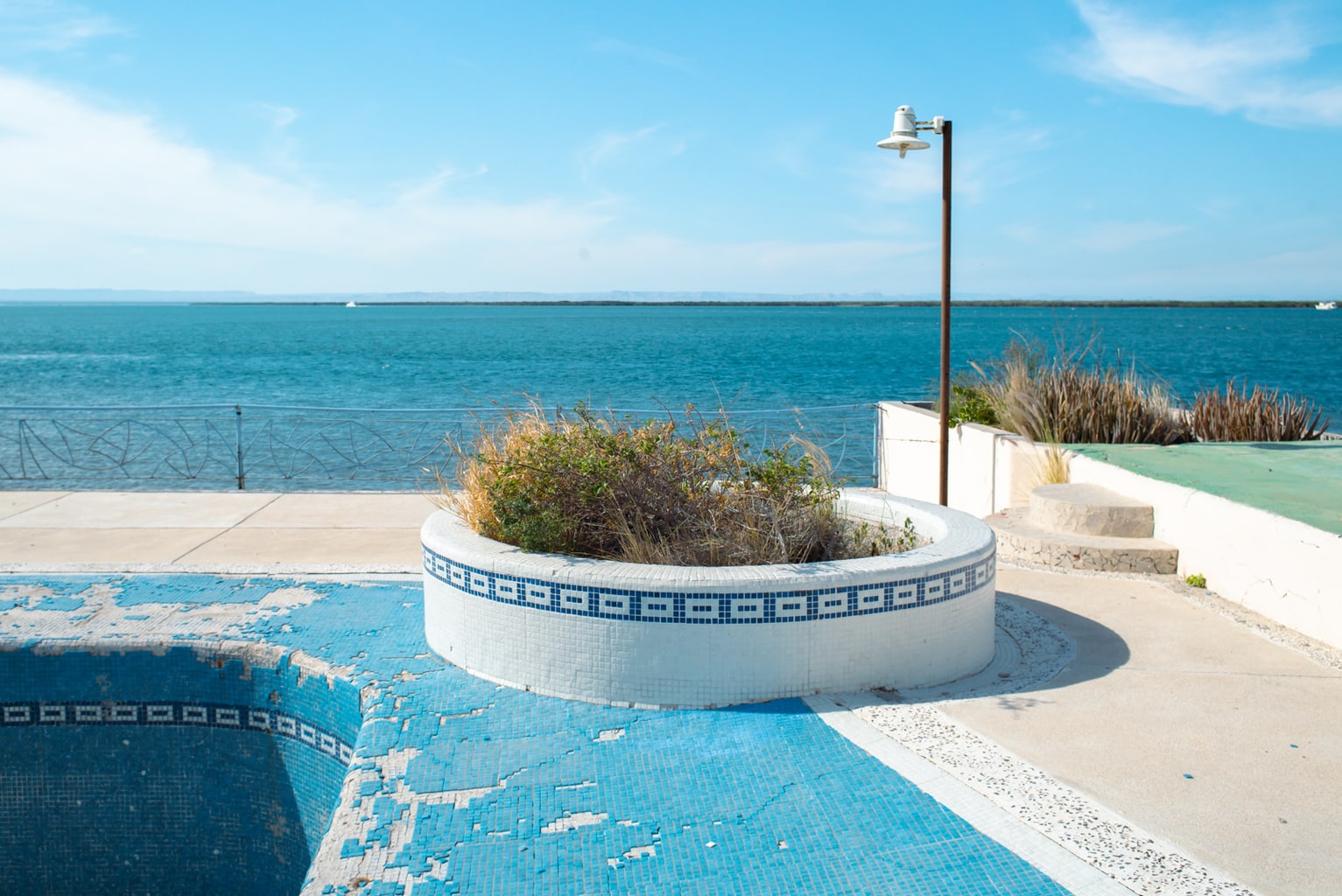 This is a dried-up and damaged pool with a planter beside it at an abandoned hotel. I chose this photo as one of my 2021 best photos because of its monotonous color and strong composition. I love all the shades of blue and strong verticle and horizontal lines that contrast with the round pool corner, planter, and stairs. The contrast between the strong lines and the rounded edges creates an unexpected visually interesting tension. This photo appeared in the post: Urban Exploring An Abandoned Hotel On A Beach In La Paz, Mexico.
Charlotte, My Daughter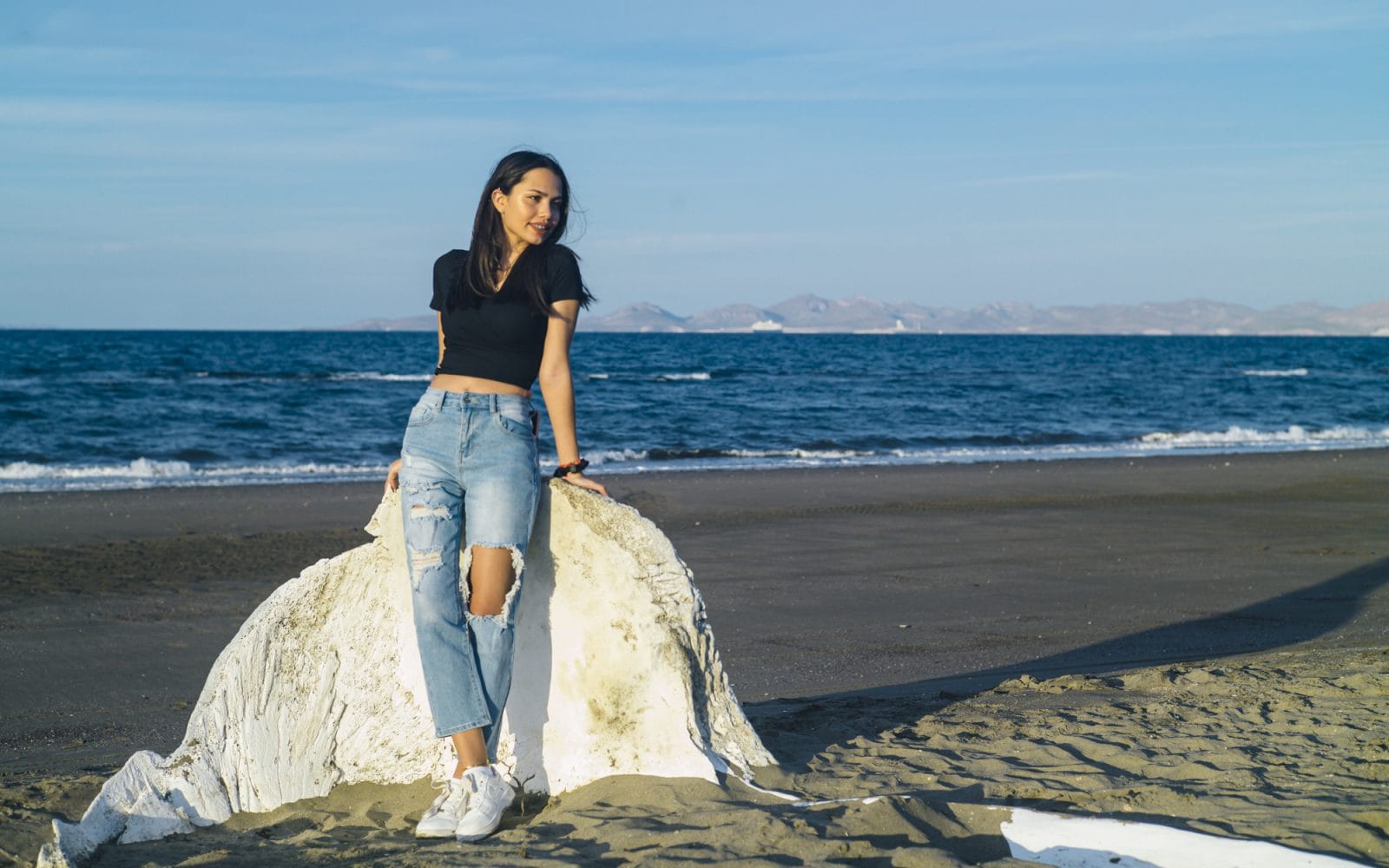 While in La Paz we celebrated my daughter's 18th birthday with her. She has grown into such a smart and beautiful young woman, I'm so proud of her. A couple of days after her birthday we drove out to a remote area that required driving for several miles off-road to do a photo shoot. The place is called Dunas Del Mogote which has sand dunes next to a beach. As we were walking around we notice this massive whale bone protruding from the sand. I had never seen anything like it before. We ran over to it and used it for this awesome photo. I love this photo so much!
Stan, My Father-In-Law
I took this photo just a few days ago. It's of my father-in-law looking for deer from a deer blind he has been using for years. Every time I come to Michigan in the winter I join him and my brother-in-law in the deer blind and hang out with them. I appreciate these moments. He's a farmer and hunter and is very generous in letting me in on his life. This photo captures his personality in his environment well.
---
---