American Airlines' rebranding successfully modernized its famous logo into one that moves them forward without forgetting the past.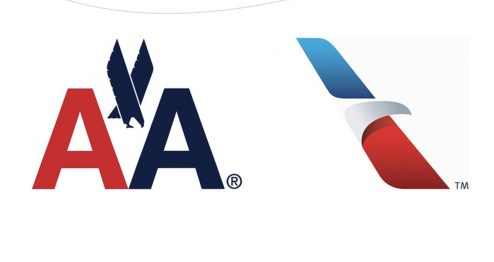 In the process of recovering from an ugly Chapter 11 bankruptcy, American Airlines ordered a record number of aircraft, over 500. The new incoming planes were made of composite materials. They would no longer be the natural silver color their planes are known for. Americans had also been considering how they are going to change their current corporate image. Having to choose a new color for their planes along with the need for a new corporate and global image they decided to completely rebrand. Changing their logo and exterior paint schemes along with a large attempt at modernizing their fleet.
Choosing Futurebrand
AA hired the well-known marketing company Futurebrand to handle the rebranding. American Airlines' logo had been one of the most established and well-known logos around the world. They had been using it for over 45 years. They were now ready to show the public that they are reforming their company. Rob Friedman, the VP of Marketing for American Airlines said, "…it made complete sense to have the exterior of the aircraft reflect the progress we made on the interior of the aircraft and across the customer experience."
Technology Updates
When it comes to flying, the customer experience is typically stressful, boring, and very unexciting. I think modernization is a great idea. It will definitely help them appeal to more Gen X and Y customers, especially with their onboard Wi-Fi. They also hope to use new technologies to streamline the boarding process, helping to reduce customers' stress. Also, having new technologies onboard aircraft will help to alleviate the boredom most fliers feel. They hope these new technologies will be able to increase their market share in an extremely competitive market.
Branding Overhaul
American Airlines didn't stop there; they decided to do a huge rebranding that included changing their iconic logo and airplane color schemes. I feel the departure from their logo of the 1960s is a nice change. Even though many people appear to have loved the AA logo, I never really cared for it much. It always seemed stuck in the past to me. I welcome the change and I really like the new logo. It is simple and says a lot. In this age of rapid technological advancement and globalization, I think their new logo conveys that they are apart of this age too.
They also have redesigned the tailfin paint design. It looks like an abstract American flag quickly moving through the air. The new tailfin design really helps to make AA stand out and it actually looks a bit exciting to me. I'm very impressed with their rebranding. I believe it is going to appeal to a wider audience and potentially increase their market penetration.
Brand Loyalty Still Suffering
Unfortunately, though, rebranding does not fix a company's ills. Brand Keys Customer Loyalty Engagement Index rate American the lowest among U.S.-based airlines in 2013. I believe they may have missed a great opportunity here to truly reinvent their company. While they are rolling out 500 new planes with new colors, new logos, and new technologies the service is still the same.
I believe it was very misguided to focus so much attention and money on rebranding. Especially when you are just coming out of bankruptcy and with such poor customer loyalty ratings. I'm sure passengers are going to really the new branding. But they are still going to be courting the same AA employees and processes. If their attitudes and service are not better, all that rebranding is for naught.
Other Areas Of Improvement
If I were in American Airline's shoes, I would have focused a lot on improving our customer service. Improving it to a level that would put other airlines to shame. I would also greatly improve the phone system. To make it no longer have customers wait 30 minutes or more to speak to a representative. Another thing I would have done is see how we could greatly ease the ticketing and boarding processes. Not just automating them, but actually combining automation with human service. And only after we have been able to prove ourselves exceeding well, then roll out the rebranding.
American Airlines' decision to do a complete rebranding while they are struggling to come out of bankruptcy and have poor customer loyalty seems unwise. This rebranding, even though considered by many to be very well done and modern, may not be enough. Enough to pull them back up to the prestige they once held in the minds of consumers. They must spend time and focus on the overall customer experience, in and out of the plane. Otherwise, this rebranding may end up being a waste and hurting the company in the long run.
---
---