The UX Design Conference and Empathy Immersion Workshop at UT Dallas by Brian Sullivan and Cassini Nazir was excellent and very educational.
This weekend I went to the Empathy Immersion Workshop to learn more about keeping empathy at the center of designs and had these takeaways.
Brian Sullivan – Empathy Immersion Workshop
Brian Sullivan gave a great class on what empathy means and how we can apply it to our work. I learned the following from his talk:
Empathy is how a person feels, there's no judgment about their feelings. It's also sensitive to non-verbal cues and searches for deeper meaning.
He said there are three kinds of empathy:
Emotional Empathy – Which is sharing or experiencing the feelings of another person at the moment.
Cognitive Empathy – is understanding, intellectually, what another person thinks and feels.
Compassionate Empathy – Being so moved by a connection that you are compelled to act.
As a leader, Don't try to tell your people what to do, show them first that you care."

– Brian Sullivan
Design thinking seeks to create empathy within the user experience.
Empathy leads to innovation Feel —> Think —> Act
Empathy is the core of Accessibility
Observing Your Users
Look for adaptations, hacks, or workarounds people use to make things work better for them. They show that something is clearly not being met, your product needs these things.
Look for what people value because it gives you insight. By understanding what people value, you can deliver meaningful things people want and crave.
Look for patterns, they immediately reveal what people value, patterns can be multiple objects, habits, or routines.
Look for unexpected things, anything that is out of place is a conversation started. Be very curious about what you see. What stands out? What's hidden? They give you inside into what a person values.
---
Cassini Nazir – Design of the Past, Present, & Future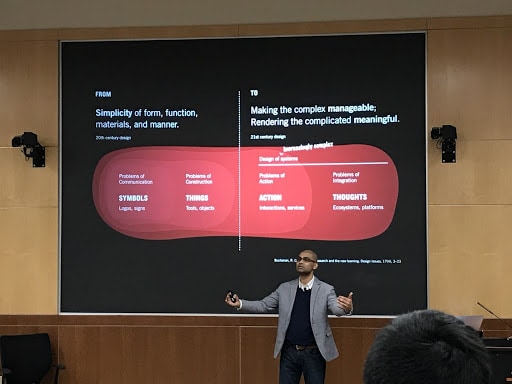 In the afternoon Cassini Nazir gave an amazing presentation about the design. His presentation highlighted the past and present of design but really focused on the future of design. He said so much that gave me a lot to think about when it comes to design. Here is what I learned from his presentation:
Deictic center – reference point of where you are in the world in regards to time and space. I, here, now.
It's not our future that's uncertain: it's our present"

– Cassini Nazir
Equally important to what we shape, is what we choose to not discard
We are living in the digital stone age.
Complexity is a fact of life. Simplicity exists only in the mind.
What is experience? The integration of our sensory inputs over time.
Our interaction is never about technology, it's about interaction with other human beings.
We need to think about and design beyond our sense of vision, but also our other senses.
Think slowly and absorb.
The design process is about understanding complexity, not reducing it.
---
---