Indio Management responded horribly at the Hue At Cityplace apartments after a broken pipe caused a flood in our apartment during the Dallas 2021 winter storm.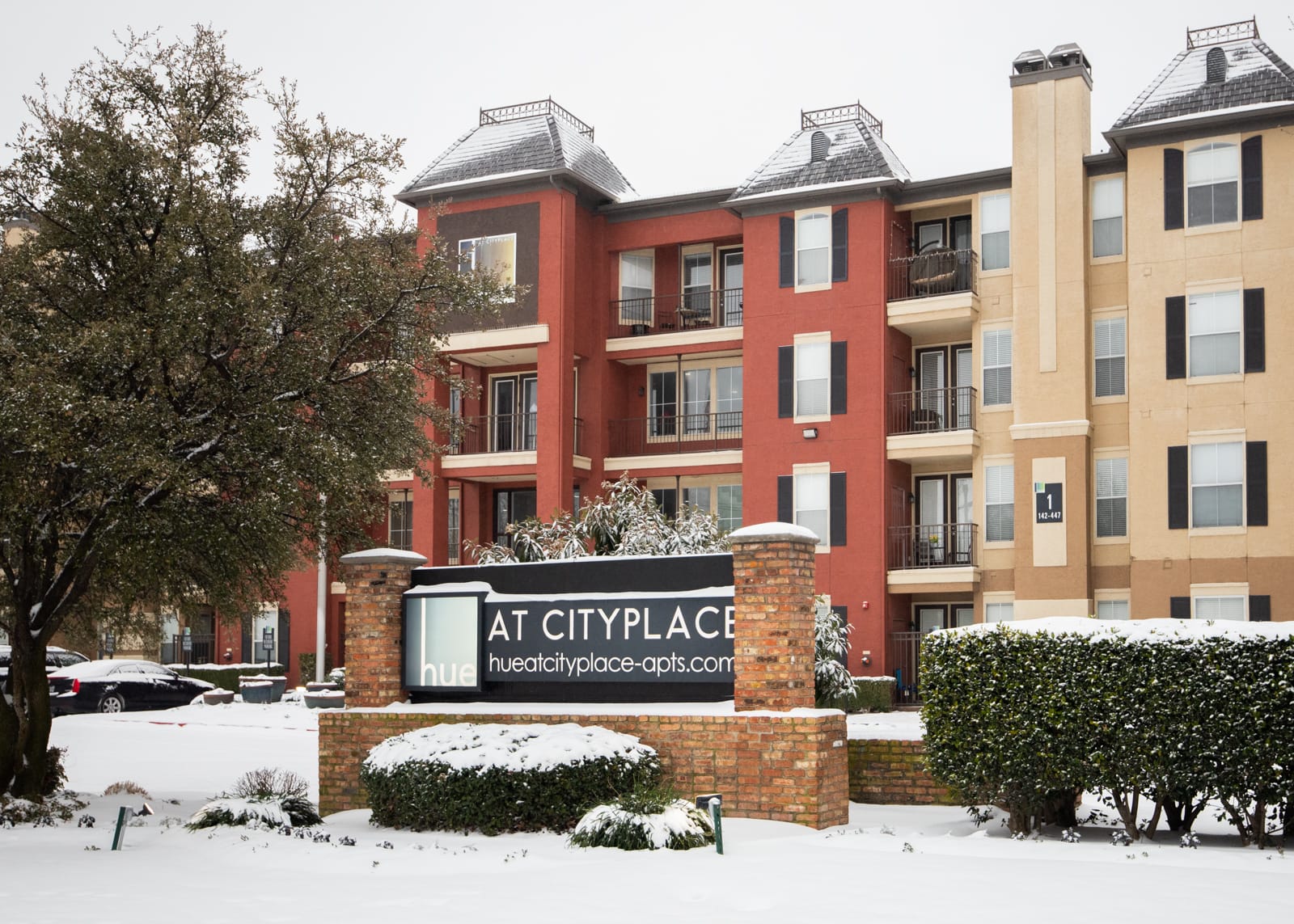 A water pipe busted in the sprinkler closet attached to the outside wall of our apartment. The rushing water pouring out of the pipe flooded most of our apartment. Indio provided virtually no communication on how to navigate this situation and refused to help us in any way.
This is especially disappointing because we have been residents at Hue At Cityplace for three years. I know a lot of people have gone through much worse than what we experienced, but the point of this post is to demonstrate how horrible the property manager, Indio Management, is and to discourage anyone from renting at their properties.
The Winter Storm
On February 14th, 2021 the biggest snowstorm in 6 years hit Dallas. The worst part of it was the historically extremely low temperatures that lasted several days. The first night of the storm wasn't as bad. I was able to go out and photograph Dallas covered with snow very early Monday morning. For the first couple of days, everything seemed fine. It was just really, really cold with a lot of snow. My wife and I were actually really enjoying the weather.
The Pipe Burst And Flood – Feb 16th
On Tuesday evening, February 16th, my wife Andrea went over to my mom's condo in Rockwall to do her hair. While she was there, at around 7 pm, I went into the laundry room of our apartment to take clothes out of the dryer. When I stepped into the laundry room I noticed there was water all over the floor. I immediately called Andrea and told her what happened. She told me she had just run the washer before she left. We figured the water must not have drained properly due to frozen pipes. I went to get towels out of our bathroom which requires me to walk through our bedroom. When I walked into our bedroom it felt like I just stepped into a small puddle of water.
I continued walking over to our bathroom and saw that it was under a half-inch of water. All the water confused me at first. It was hard to process what was happening. I quickly inspected all the facets in our apartment. None of them had water running. Nor was there water leaking from any hoses under the sinks and toilet. Also, there was no water on the ceiling or walls. I walked around the entire apartment and couldn't find where the water was coming from.
Calling Indio Management For Help
Right after inspecting the apartment I called the management office and left a message with the emergency voicemail. I was expecting to get a call right back because I assumed they would take flooding very seriously. For the next 15 minutes, I moved as much of our stuff as I could out of the bedroom and bathroom into our living room, which was not flooding.
I looked outside and saw that our outside area was flooding also. Our apartment is on the first floor and at the end of a hallway. I walked around to see the outside wall of our bedroom. When I looked around the corner I saw the sprinkler closet with water rushing out from beneath the door. I walked through the freezing water and opened the closet door and saw water gushing down from the ceiling.
It had been nearly 20 minutes and the apartment still had not called me back. I called them again and still no response. I then called the fire department to let them know and they said when they have a chance they will send someone out.
Indio's Initial Response
Approximately 25 minutes later, I went outside again to check to see if they had turned off the water. When I opened my door the groundskeeper was there looking at it but he said he could not do anything about it. He had the apartment manager on speakerphone and I was explaining to him what was happening and he didn't say much to me. The groundskeeper told me that they asked him to turn the water off in the closet but it was pouring down water in 20-degree weather. It was too dangerous for him to get soaked in that kind of weather. The groundskeeper said the management told him that the company that does their maintenance said they cannot send someone out till tomorrow morning.
The Water Ran For 12 Hours – Feb 17th
My wife and I were really concerned about the flooding and not knowing how bad it was going to get. We decided to stay the night in our apartment and sleep on the couches as the water continuously poured out. When we woke up at around 7 am the water was still going. The flood ended up ruining a lot of our stuff. It also soaked our entire bedroom carpet, both our closets, our bathroom, and our entryway, fortunately, our livingroom was spared.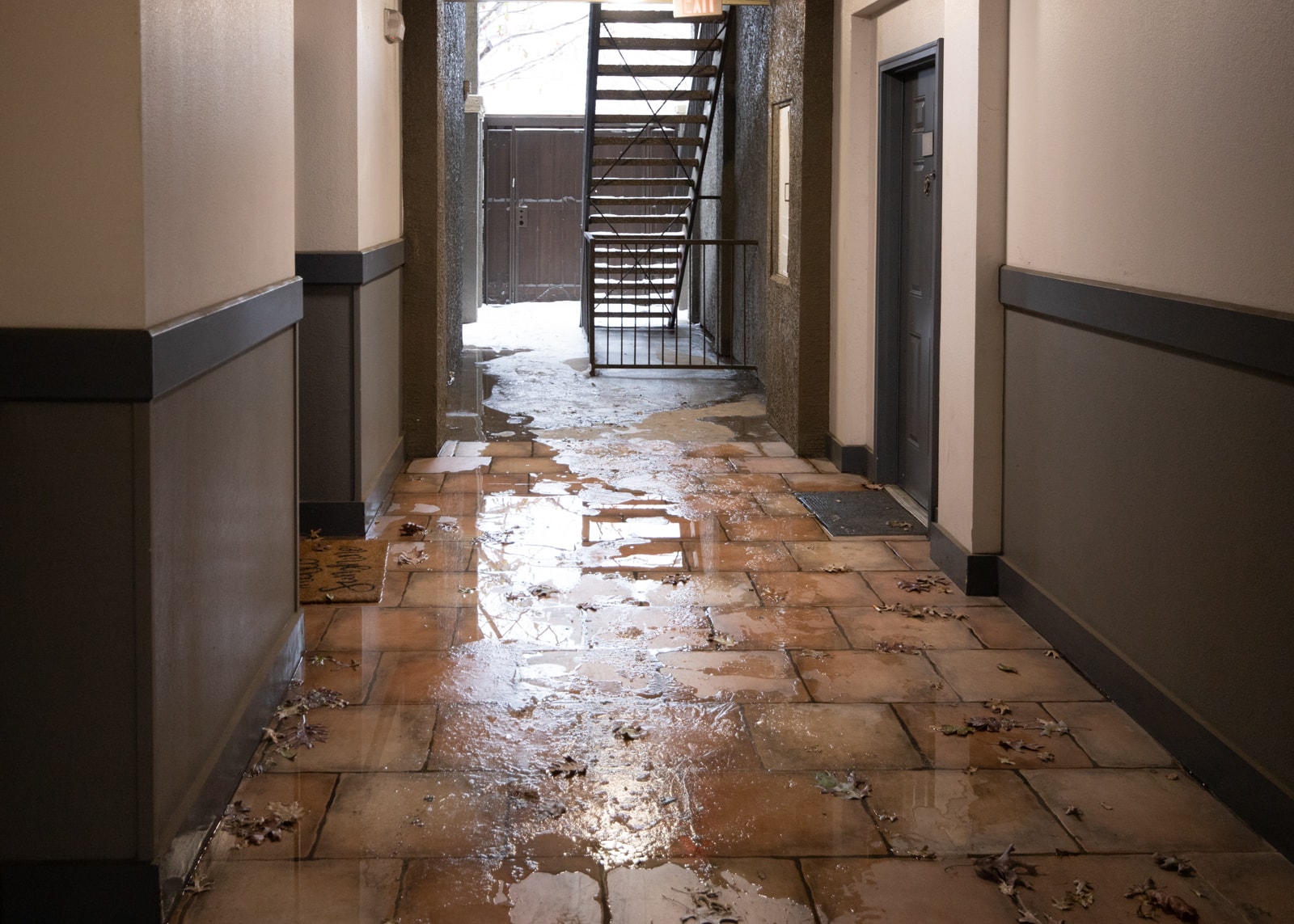 At about 7:30 am, I heard some ruckus outside of my apartment. I opened the door and saw the apartment manager and a couple of guys standing there. They had just turned the water off. The water ran for 12 hours! I asked the manager if there was another apartment I could temporarily stay in while we waited for our apartment to be fixed. He quickly said no and told me to contact my renter's insurance. That was the extent of the help he offered me. He would probably have never even said that to me if I hadn't opened my door to see what was going on. Still to this day, Indio management has yet to contact me directly to talk about what happened.
Sporadic Mass Emails From Indio Management With Little Information – Feb 19th
Over the course of the next week, Andrea and I had no idea what was happening one day to the next. For several days our water was cut off and our apartment was soaked. We spent a few days in a hotel with my brother's family so we could bathe and sleep in a bed.
For the first few days after the flood, they sent generic mass emails about people coming on the property to assess the damage. They offered no timeline, no help, nothing. Their first couple of emails included the main phone number which no one answer when I called it. The rest of the emails stopped including the number. This is one of the mails they sent, it completely lacks any useful information to help us respond to this situation: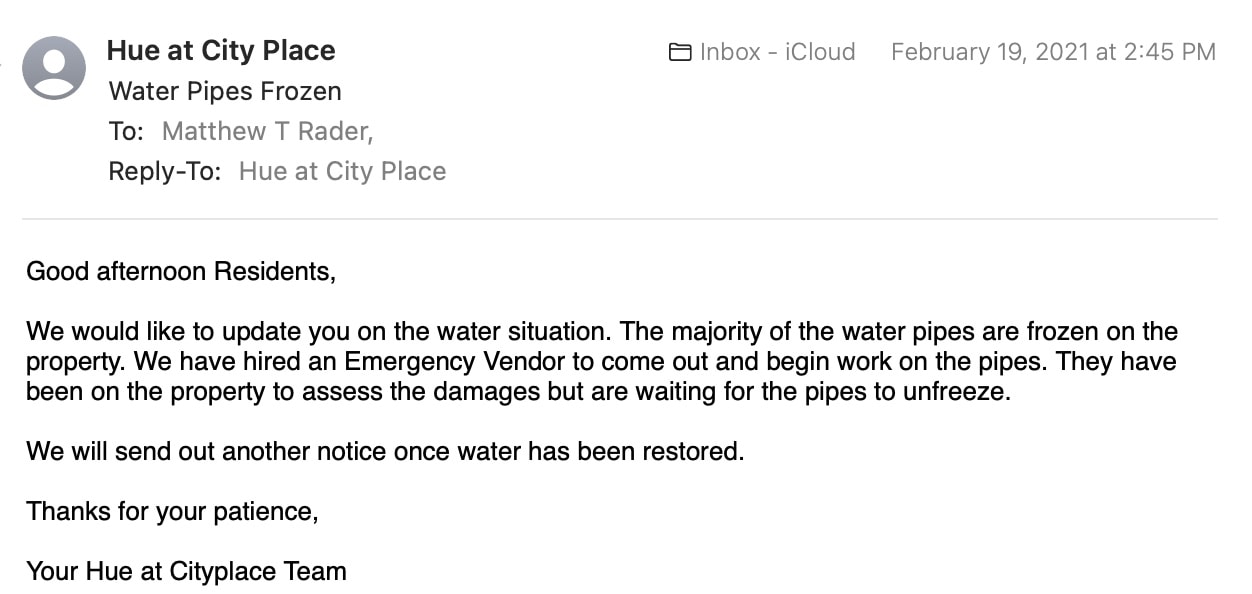 A day or two later I saw the property manager roaming my halls with some other people. I asked him when the repairs will be done in our apartment. He said he didn't know. I then asked him if someone could at least remove the soaked carpet because it was making our apartment smell horribly of mildew. He said he would look into it and I never heard from him again.
Days went on, they sent more useless mass emails about them testing water lines to find leaks. They at least left the lobby bathrooms open all day and night for people who didn't have water.
9 Days Later – Feb 25th
On Thursday in a mass email, Indio Management stated that remediation has begun and it asked us to move all of our stuff out of the flooded and damaged areas of our apartment. Like in the other emails, this one had no info on when this was going to happen and no info on where we can get help in knowing the best way to prepare our apartment for the remediation. My wife and I weren't sure to what extent they were going to demolish our apartment. The majority of their emails didn't even contain a contact number. I responded to an email with a series of questions and they have not responded.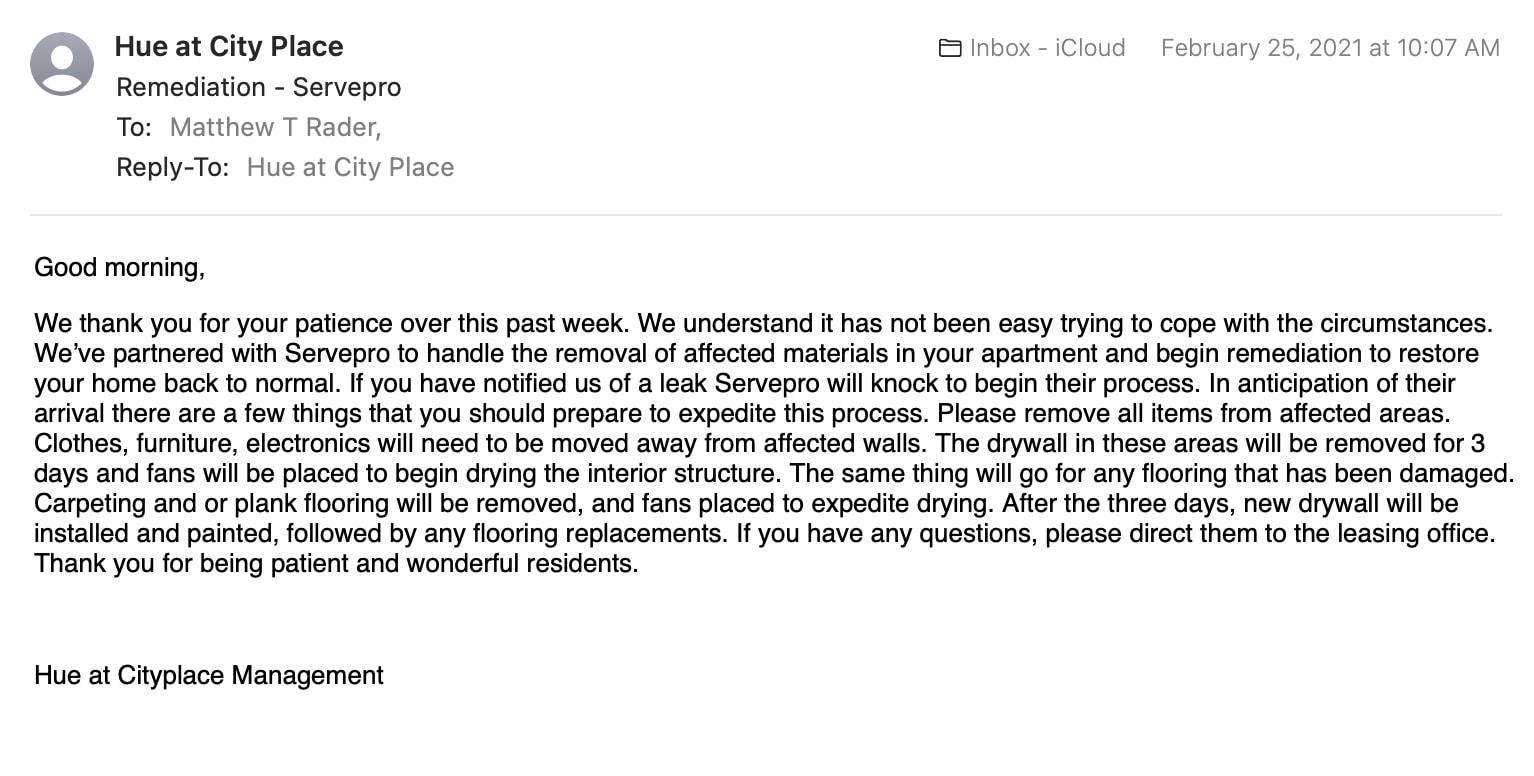 Coordinating With The Cleanup Crew
Later that day we checked out of another hotel we had booked for a few days and went back to the apartment. When we got there we saw some people tearing out an apartment down the hall from us. I went inside asked them when they were going to do my apartment. I spoke with their manager who happened to be there. He seemed to have not known mine was damaged and asked me to show the water damage to him.
Interestingly, they were in the middle of repairing an apartment that was not occupied but used for Airbnb rentals. My wife also saw them already working on their showroom apartment. Indio prioritized the apartments that would bring them the most profit over the apartments that currently had people living in them such as ours.
The manager and a couple of other guys walked over to our apartment with me and I asked him to what extent will they be demolishing our apartment. They used a device to detect the moisture in our wall. They then explained to me which specific areas of the apartment will need to be free of stuff for them to do their remediation. I asked them when the apartment will be fixed afterward. They told me they had no idea.
Out of necessity, I arranged for them to come to my apartment the next morning at 9 am to begin working on it. I couldn't understand why Indio Management was not coordinating all this. Why am I having to talk to the contractors directly to get very basic information? Well, my wife and I spent all that night moving all our stuff into the living room.
Our Current Status – Feb 28th
Today is Sunday, Feb 28th, 12 days after when the flood started. Our apartment finally had all the wet parts removed yesterday. We went by our apartment today and the floors, walls, and beams were still soaked. According to the email above, they said the process will take three days because they need to air out the place and let it dry. But by looks of everything, it's going to take much longer than three days. We still don't know when we will be able to actually settle back into our apartment. We are currently staying with friends at their house.
Most all of our stuff smells like mildew now because they took so long to remove the soaked carpet. We now must itemize almost everything we own and report it to our renter's insurance. A lot of personal stuff we have had for years will be lost due to Indio Management's extremely slow response, poor communication, and refusal to help us. This is our apartment today:
We are really thankful for our friends and family who have helped us through this ordeal. I know we are far from the worse of what people went through. We both understand that natural disasters happen and everyone has to work hard to get past the chaos they cause. Our only grievance with the Indio Management, they have been absolutely horrific in helping us and providing communication on how to navigate this situation on their property.
Update: Terminating Our Lease – March 1st
My wife and I had begun looking for another apartment for when our lease was up in one month. Our apartment was still in the same state and no repairs had begun on it. We, fortunately, found an apartment that was immediately available. We wanted to move in as soon as we could so we could get back to normal because they were dragging their feet to fix our place. I started doing some research on how I could terminate my lease early in situations like this.
In my research I discovered this law in the Texas Property Code:
If after a casualty loss the rental premises are as a practical matter totally unusable for residential purposes and if the casualty loss is not caused by the negligence or fault of the tenant, a member of the tenant's family, or a guest or invitee of the tenant, either the landlord or the tenant may terminate the lease by giving written notice to the other any time before repairs are completed.

Title 8, Section 92.054 (b)
I wrote an email to Indio Management requesting to terminate my lease without consequence based on that law and a refund of my rent during the time my apartment was not livable. After an in-person inspection, that same day, they agreed to terminate my lease and refund me two weeks of my rent. During the termination process, they were very cooperative and did refund me the money we agreed to.
On March 6th, that following weekend, we moved out of Hue At City place into a much nicer apartment whose management company has very high online ratings.
---
---