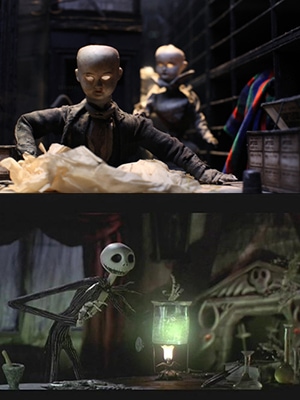 The Brothers Quay were recently introduced to me in an article I read by Teresa Annas. It was really interesting to learn about the identical twin brothers who created stop-motion animation films. These brothers inspired Tim Burton, the creator of one of my all-time favorite movies, The Nightmare Before Christmas.
I recently watched two of their movies, the Brothers Quay movie Street of Crocodiles, and Tim Burton's Nightmare Before Christmas. I noticed several interesting parallels between them. One of the similarities noticed was how they animated odd-looking creatures that normally are lifeless. And in each movie, the creatures were eager to explore the world outside of their own.
In Street of Crocodiles, the toys and mechanical things want to explore humanity and what it meant to be human. The film short depicts the toys curiously probing a man. They explore an array of phallic and yonic shapes, very intimate aspects of being human. In Tim Burton's movie, the characters did something very similar. The main characters left their own land, Holloween Land, to explore the strange and foreign Christmas Land. To learn more about Christmas Land, the characters kidnapped and probed Santa Clause. Also, characters studied the shapes and symbols uniquely related to Christmas.
A stark difference though is the aesthetics. Tim Burton used a colorful yet dark aesthetic. The scenes were well lit, rich in detail, and full of beautiful landscapes. The Brothers Quay stripped their movie of any classic aesthetic beauty. The core idea of the film was more evident without layers of "beauty" masking it.
---
---